Welcome to High Camp Trekking, a Kathmandu, Nepal-based trekking Adventure Company founded in 2010. It is run by a family who is a professional in tourism for more than two decades. With over many satisfied clients from several countries, we have maintained a reputation as the best trekking adventure company in Nepal.
We are officially registered under Nepal Government offices and have the authority to conduct trekking in Nepal and climbing in the Himalayas of Nepal. We are a general member of the Trekking Agency's Association of Nepal (TAAN) and the Nepal Mountaineering Association.
As Nepal is located mainly in the Himalayas, everyone can get the best of Nepal by trekking in Nepal. And for more adventurous activity snowy peak climbing is also popular.
Nepal is the land of mystical beauty with a variety of cultures, ethnic groups, flora, fauna, and iconic mountains that await your discovery. We give you an excellent opportunity to explore our beautiful Nepal with local knowledge from our experienced guides that trusted and earned over the years.
Who we are: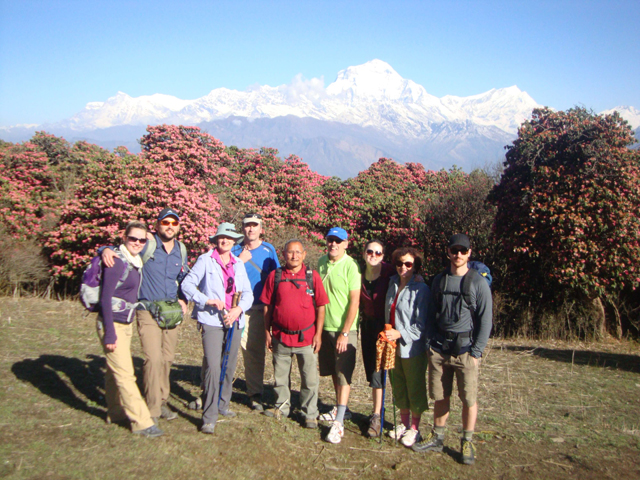 In the early 1970s, when Chheduk Man was young, he descended to Kathmandu, the capital city of the Middle Eastern part of the Himalayas of Nepal in search of a better job opportunity. He initially found work as kitchen staff for a camping and trekking group, which was the start of his journey towards owning one of the country's best trekking companies.
Chheduk Man served as kitchen staff for a couple of years. Then he upgraded his skills and worked as a chef. He prepared delicious and nutritious meals for large groups of people during camping and trekking. Even back in the 70s, camping, and trekking were very popular. This is where he realized that the scope of camping and trekking was vast in Nepal. Being someone who grew up in the lap of the Himalayas, Chheduk Man decided to steer his life toward something that served his homeland. He saw an opportunity in being a camping and trekking guide for foreigners. However, he knew he needed further skills to pursue his newfound dream.
Before this, Chheduk Man had never studied or learned a foreign language. But in 1975, he enrolled in various study centers and institutions to learn the English language. He continued his language study well into the 80s. He worked as an English-speaking guide for large commercial trekking groups on the foundation of his new language skills. After a few years, he applied for his trekking guide license. In 1984, after taking a four-week-long guide training course from Hotel Management and Training Center in Nepal, he received his official trekking guide license.
According to Chheduk Man, the time between the 1970s and 1990s was a golden era for trekking adventure in Nepal. During this time, he worked as a Sirdar (senior team manager and climber) for many trekking groups. He successfully led climbing expeditions to majestic peaks such as Mt. Kanchenjunga (8586m), Mt. Makalu (8463m), and Mt. Dhaulagiri I (8167m).
Until 1998, Chheduk Man worked for various esteemed commercial trekking companies. In 1998, he founded his own recommendation group and started working only in his camping and trekking group. He initiated his recommendation group as a family business and employed his sons: Sanjay, Norsang, and Samden as porters for his clients. All three of Chheduk Man's sons are following in their footsteps and have already become officially licensed guides in Nepal. In 2010, Chheduk Man registered his trekking company, High Camp Trekking in the Government Offices of Nepal as a family trekking business running in the Himalayas of Nepal. Today, Chheduk Man with his sons Sanjay, Norsang, and Samden works together at High Camp Trekking, whose main office is based in Kathmandu, Nepal. High Camp Trekking has quickly gained a reputation for being a great trekking company that caters to the camping and trekking needs of Nepalese and foreigners alike.
What we do in the Himalayas in Nepal:
We run teahouse treks in popular destinations such as Annapurna, Everest, Langtang, Manaslu, Mustang, and Kanchenjunga. We choose some of the best teahouses for each trek we run. We do room pre-booking at the teahouse for every busy season.
Camping trek is something like a forgotten activity in Nepal now a day even though it was very popular in the 1970s to 90s. We run camping treks in trekking destinations such as Dhaulagiri, Dolpo, Limi Valley, Rowaling, and where the teahouse is not established yet.
We also conduct snowy peak climbing based on camping organized service. Our cook (chef) prepares daily fresh meals with delicious varieties of Nepali, Western, Indian, and Tibetan for camping groups.
Our mission and vision:
At High Camp Trekking, our mission is to give you a safe and enthralling once-in-a-lifetime experience in the Himalayas. Your safety is always our first priority. Along with that, we also make sure that every step of your adventure in the Himalayas is an enjoyable and memorable experience. Our guides are knowledgeable and familiar with the routes, local languages, ethnic groups, and culture that stretches from the east to west of the Himalayas of Nepal. They also have the ability with maps reading, navigation, mountain security (snow and avalanche risks), and first aid training in the wilderness. For extra safety measures, we have a backup team at Kathmandu with 24 hours of support when a group is heading to the Himalayas.
To give our clients amazing service, we continuously encourage our guides to take part in the latest training sessions for trekking and climbing in the Himalayas. We stay up-to-date with the latest trekking equipment and techniques as well. To make sure that you get a memorable experience, we research new trekking areas and trekking routes that you can enjoy. Furthermore, our guides, cooks, and porters are insured and provided with all necessary equipment while on the trek so that they can serve you the best way possible.
Our commitment:
We are committed to providing you with the best trekking experience in Nepal. Our local guides are trained and licensed professionals. We pride ourselves on our excellent success rate in our treks. Since safety is the foremost priority, our clients actively seek us when they visit Nepal the next time. Furthermore, we follow the trekking and climbing rules and regulations of the Nepal Government for your safety and give you a truly wonderful trip that can only come from highly experienced guides for your pleasure.
Our commitment guidelines entail the following:
Once you have booked the trip with us, departure for the trip is guaranteed.
Before we start the trek, we supply you with all the necessary information about the preparation for the trip and safety and precautionary measures.
When you book us, rest assured that we will provide you with hassle-free trip arrangements.
We provide you with a highly experienced and officially licensed guide on every trip.
Safety and security are the first priority while on the trek.
With us, you get an extraordinary experience that is worth your money.
Responsible for Trekking and Tourism:
All our guides and cooks have been given environmental training and are very aware and alert about the delicate Eco-system we enter. We suggest everyone drink boiled or purified water from tablets instated of buying bottled water while on the trek. We use kerosene or LP gases for meals prepared on the camping trip. Our trekking crews do the cleaning of the campsite before they leave it. Clean the environment and save it for the upcoming days.