Ice climbing in Nepal involves the frozen waterfall, rocky ledges, and cliffs covered in frozen water flowing in the middle of winter (January and February) at the foot of the Himalayas. This kind of winter adventure sport in Nepal is for those who aspire to Climb Mountains 6000m beginning with ice climbing. Technically, our guide takes good care of a beginner or an expert from starting a single pitch to multi-pitch climbing of ice that rises from 20m to several hundred meters. We take you where ice is reliable and safe for climbing. There are a number of different ice climbing routes on the frozen waterfalls in the Annapurna, Everest, Langtang, and Rowling region in the winter. The frozen waterfalls are easily accessed in a couple of days of hiking in the Annapurna and Langtang compared to the Everest and Rowling region.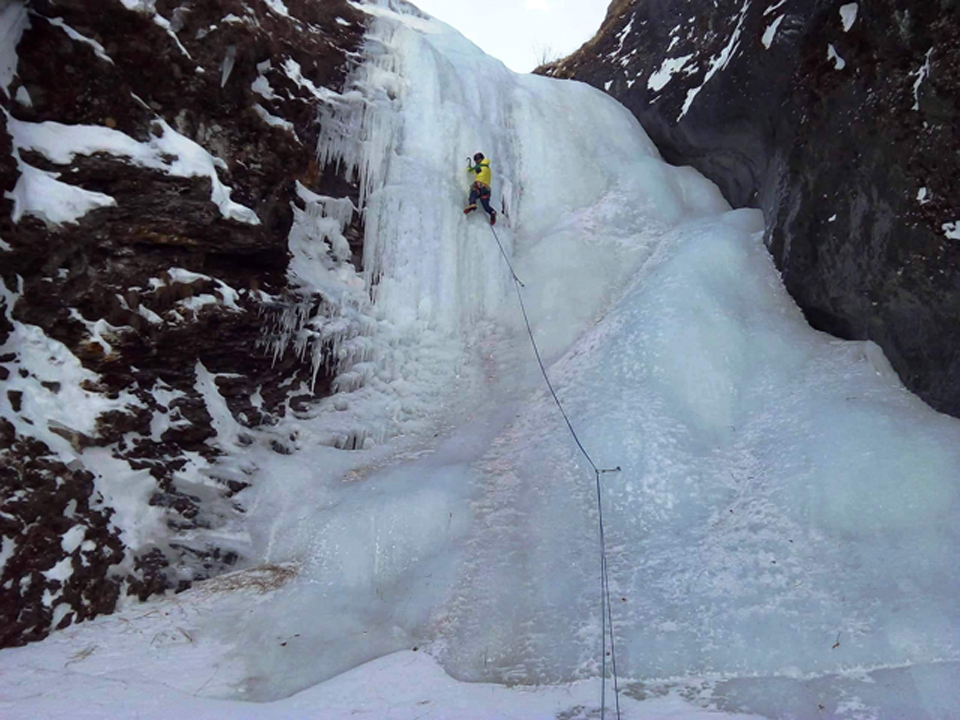 First of all, the guide does lead climb and places ice screws for protection while climbing up. Led climbing on ice is scary and needs practice. We recommend to beginners do top-rope climbing and lead climbing on the easy routes. Experienced climbers can do led climbing on technical routes as well.
Which types of equipment do I need for Ice Climbing in Nepal?
The air is clear, the temperature is cold and winter snow covers the trail. So, you need the proper warm equipment to shield yourself from chilling out and need some technical climbing gear for Ice Climbing in Nepal. This is as follows Ice Climbing equipment lists.
Climbing Helmet.
Climbing Harness.
Crampon-compatible Alpine boot.
Crampons fit your boot.
Ice screws.
Ice axe (tools).
Belay device (ATC Guide).
Lock carabiners.
Quickdraws.
Climbing rope.
Gore-tax glove, jacket, and trousers.
UV Sunglass.
Safety cord.
Prusik cord.
Water bottle 2L.
First Aid kit.
Rucksack 75L.
We have some proper gear for renting facilities if you do not have one.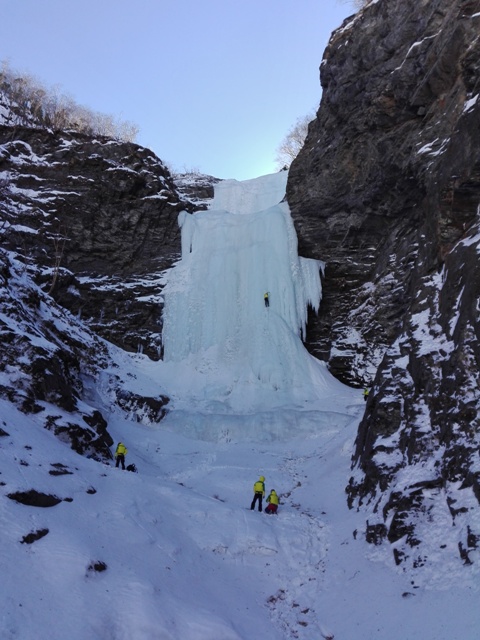 When is Ice Climbing Festival in Nepal?
There celebrate Ice Climbing Festival in Manang, Annapurna region in February each year. There is also an opportunity for Ice Climbing Courses with IFMGA Guides during the festival period. Register your interest for future Ice Climbing competitions or courses on the shadows of Annapurnas. We are here and ready to accept your booking. We will keep you up-to-date with preparation advice and no payment is required until the trip is confirmed to operate. You can also trek to Annapurna Circuit after you participated in the Ice Climbing Festival.