Nepal, home to some of the highest mountain peaks in the world, is one of the most popular destinations in the globe. Being a proud mother of these big giants, Nepal also boasts some raft-able rivers that flow down the foothills, fed by the melting snow and rains. Rafting in Nepal is one of the major 'Action-Filled' activities, preferred and loved by tourists as well as the natives.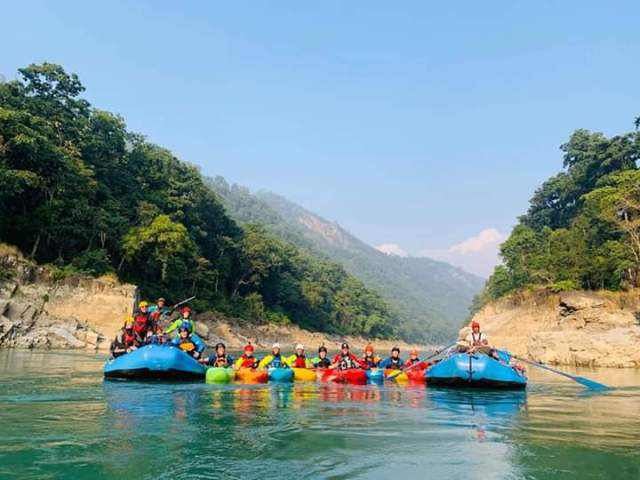 Nepal offers many rivers for the active ride. Himalayan River Rafting in Nepal can be divided into categories:
Short Rafting Trip (1 to 3 days) – Usually involves decent and less challenging white water trip. Trekking is not included in this package and is perfect for first-timers.
Long Rafting Trip (7 to 11 days) – Usually involves both less challenging as well as some of the most challenging rapids in the world. Short treks are also included to/from the river.
Short Rafting in Nepal
Rivers in this category are:
Trishuli River- Perfect for first-time rafters, Trishuli River offers exciting rides through some of its popular rapids and gorges. The river is visited almost all year round but some prefer to visit it during the monsoon when the challenge is most difficult. This is when rapids and whirlpools are at their best.
Kali Gandaki – Named after the Hindu goddess Kali, the Kali Gandaki River offers a chance to experience some breathtaking mountain views as well as a ride alongside Magar and Chettri villages.
Bhote Koshi River – The best time to raft in this river is between October to May. The river offers some fastest and some challenging steep rapids to the rafters that prefer true adventure. The rafting offers a close encounter with the Tibetan culture and lifestyle.
Seti Khola – The river is the gentlest one among all other short rafting rivers most of the year. This river is most preferred by children, older people, families, and first-time rafters. The rapids in Seti Khola are at their best during monsoons and that is the time when professional rafters come face to face with true challenges. This river is considered to be one of the most preferred rivers to learn Kayaking in Nepal.
Marshyangdi River – The waters that come from the Annapurna range give this famous river one of the best white waters for rafting in Nepal. This trip offers views of the Annapurna range, traditional villages, and rich cultures and traditions of Nepal.
Long Rafting
Rivers in this category are:
Karnali River – This longest river of Nepal offers challenges through dense forest and rapids that are sure to make your 10 days of trek and rafting the most adventurous one. The rafting ends at Bardia National Park that is popular for safari trips.
Arun River – The river offers some strong currents for an action-filled rafting adventure. This adventure is a combination of everything from trekking to rafting through Arun Valley villages and the Arun River.
Sun Koshi River – Sun Koshi River rafting has earned a name as one of the top 10 white water rafting rivers in the world. During monsoons, the river is even more adventurous when the river water rises high and rapids are extreme.
Tamur River – The trip includes trekking and rafting that one can never forget. The breathtaking view of Mt. Makalu and Kanchenjunga adds beauty to this trip. Rafting in this river lets you encounter more than 100 extreme rapids from start till the end.
We offer short and long days of Rafting in Nepal.