Mountain Everest flight is definitely worth it if you are visiting Nepal. It is the best way to see so close Mt. Everest if you are short on time and you don't want to trek all the way up to base camp, then Everest flight from Kathmandu, Nepal will give you the best view of the Himalaya. You will experience a panoramic encounter with some of the highest peaks including Everest on earth in just 45 minutes from Kathmandu Airport. You will be flying on some of the top mountain peaks in the world in the Himalayas. Cruising at 30000 feet above sea level, you can observe the natural serenity of the beautiful Himalayas.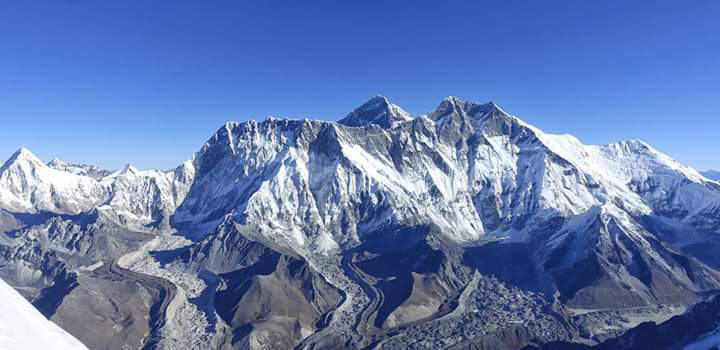 You will get a spectacular view of the following mountain peaks from the Everest flight:
Gosainthan (8013): This Mountain is also known as Mt. Shisha Pangma. It is the first peak that you will see after take-off.
Dorje Lhakpa (6966m): This Mountain is shaped like figure 8, lying down covered in snow.
Phurbi-Chyachu: It lies further towards the right and emerges over the Kathmandu valley.
Choba-Bhamare: The smallest one in the lot at 5933 meters, this peak has never been climbed.
Gauri-Shanker (7134m): This is a spiritually prominent mountain peak. Hindus believe that Lord Shiva (Shanker) and his consort Gauri protect this mountain. The summit had a history of unsuccessful climb attempts till 1979.
Melubgtse (7023): As the plane cruises towards the eastern Himalayas, this is a series of magnificent plateau-like mountains.
Chugimago (6297m): This mountain is also known as a virgin peak.
Karyolung (6511m): This is an intensely white mountain which shimmers with the rising sun.
Cho-Oyu (8201m): This is the sixth highest mountain in the world. It appears stunningly beautiful from the aircraft.
Gyanchungkang (7952m): This is the most difficult mountain to climb.
Pumori (7161m): This peak is towards the right of Gyanchungkang.
Nuptse (7855m): Nuptse means west peak, signifying its direction from Mt. Everest.
Lhotse (8516m): This is the world's fourth-highest peak near Mt. Everest.
Mt. Everest (8848m): Finally comes to the mother of all mountain peaks, Mt. Everest, that you have been longing to see. The locals call it Sagarmatha meaning mother of the world.
Mountain flight tickets will be delivered right to your hotel. You will get a guaranteed window seat and a certificate that certifies that you took a flight over the Himalayas. Please inquiry us for ticket booking and to know the payment policy.