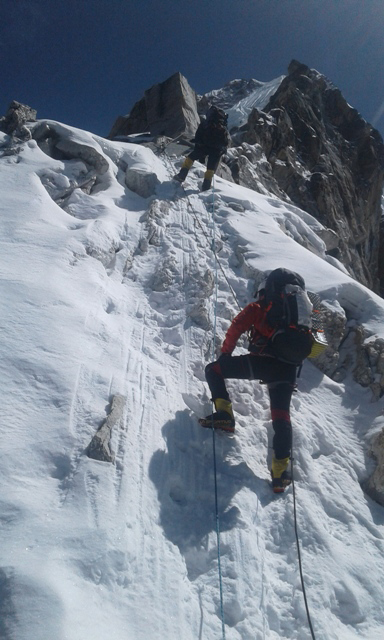 Nepal is rich in culture and nature. It is popular as the home of the highest peak on Earth, Mount Everest, or 'Sagarmatha' (Mother of World in Nepali). This is not it! Most of us have not realized that the North of Nepal is the backbone of the Himalayas where lies eight of the world's giant peaks – mountain Everest (8848m), Kanchenjunga (8586m), Lhotse (8516m), Makalu (8463m), Cho Oyu (8201m), Dhaulagiri I (8167m), Manaslu I (8163m) and Annapurna I (8091m).
It believes that the Nepal Himalayan range has 1310 peaks that rise between 6000m to 8848m height above sea level. Nepal Mountaineering Depart has officially declared 414 peaks opened for climbing. Some of the peaks have crowed of climbers, some of the peaks are rare climbed and some the peaks have never been climbed before among 414 peaks. There are so many mountains unclimbed in the Himalayas of Nepal.
Annapurna I (8091m) was the first successfully summited eight thousand peaks in the world in 1950 by a French expedition with Maurice Herzog as a leader. Annapurna is the most sales book written by Maurice Herzog. Annapurna is known as Killer Mountain in mountaineering history. Mountain Everest was first successfully summited by Edmund Hillary and Tenzing Norgay in 1953 with a British Expedition led by John Hunt. It was huge news in the world that the human conquered the highest peak on the Earth. Then, all over the world's mountaineers were lured by lofty peaks and challenges of climbing virgin peaks in the Himalayas of Nepal. The Sherpa ethnic have involved in mountaineering since 1953. Most of the mountaineering expedition would not go up without the loyal, hardy, and extreme Sherpas in Nepal. Today, many other ethnic groups are also involving as mountaineering crews; they are generally called Sherpas.
We cater all logistics including food and gear supplies, mountain guide, cook, and porters for a full expedition that would spend months in the Himalayas. For the expedition, we use a mountain guide who is certified by the International
Federation Mountain Guide Association (IFMGA). Mountaineering is always a high-risk activity in the Himalayas. Our guides are highly experienced in extremely high altitude environments and well-trained for the activity of climbing mountains and minimize the risk.
Any peak above 6000m is illegal to climb in Nepal if the expedition group does not obtain climbing permits from the
Mountaineering Depart of Nepal. International companies or private expedition groups have to contact the local company to get a peak climbing permit in Nepal. The local company has to process peak climbing permits before the expedition groups arrive in Nepal. There have to pay royalty fees based on the elevation of the peaks and a garbage deposit is mandatory for each expedition. It's mandatory to insured members of the expedition group and all the crews to get mountaineering permits in Nepal. We take care of all paper works to get mountaineering permits undercurrent Nepal Tourism ACT (Provisions relating to Mountaineering).